Studio 2 Exhibition & Display graphics, a long-standing customer of Papergraphics, has built a solid market reputation for their print expertise in signage; lightbox displays, vehicle wraps and exhibition graphics.
Recently, Studio 2 completed a commission to create, print and install 37-square metres of Digimura wallcoverings for Imaginatal, a Bristol-based provider of pre-natal ultra-sound scanning services.
Gary Jenkinson, MD of Studio 2 says: "It is only in the past few years, and a tad late to the game, that we decided to branch out into the digitally-printed interior décor market, with a specific focus on interior walls and window graphics. In 2019, we purchased the HPL560 from Papergraphics, and this enabled us to print Digimura and offer digital wallcoverings along with installation to our customer base".
In explaining their initial hesitancy to jump straight into the emerging market of digital décor, Gary says: "At the point where digital interior décor, specifically digitally-printable wallcoverings began to take off, it was a bit of an unknown, and it seemed that the price of the products and installation expertise would push projects beyond our clients' budgets".
"But since then, this has all changed, and the benefits of using digitally-printed wallcoverings to transform commercial spaces are clear and seen by all as money well spent. The cost of products has now come down, installation training is readily available, and as it happens, I think that we hit the market at just the right time".
Gary adds: "Despite the barriers of working within the Covid-19 restrictions, we have seen an upturn in enquiries from businesses looking to upgrade their interiors".
"The demand for digitally-printable interior décor is evident. Our decision to expand our business into digital décor has been an exciting challenge for us. We are so convinced that this market will continue to grow and diversify that we are currently working with a design agency to brand up this arm of our business".
Imaginatal and Digimura: large walls, small walls, offices and foyers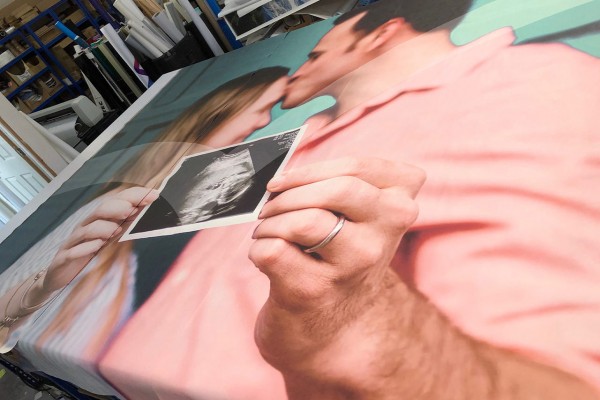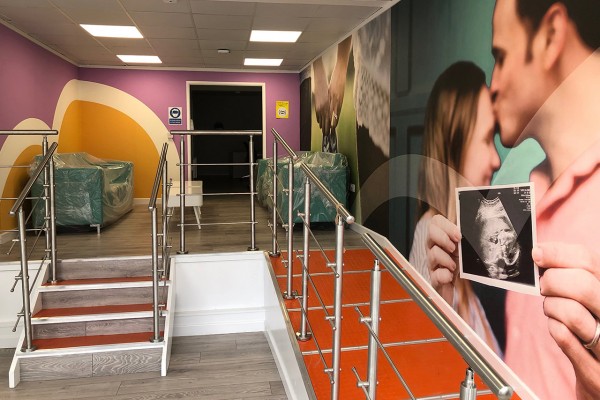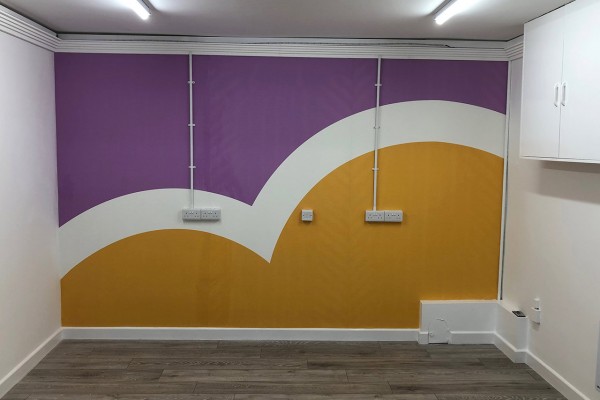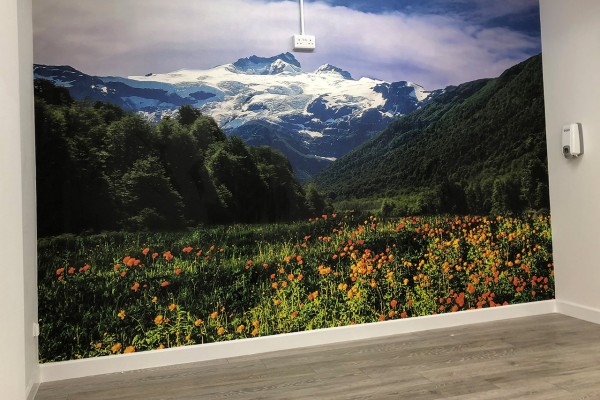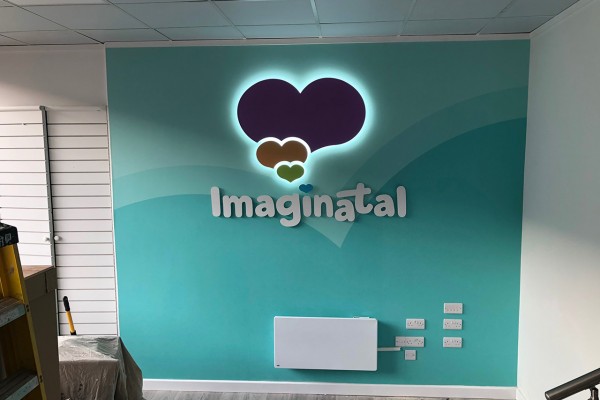 Studio 2 was introduced to Imaginatal by Flint Branding & Design and were delighted to work on this project with them and to print and install Digimura wallcoverings.
The client's brief to Flint Branding & Design was to dress several interior spaces with digital wallcoverings and imagery that was colourful, calm and welcoming.
Gary says: "Together, we chose to use Digimura 1.1's Stucco for this project as this particular finish perfectly suited the imagery selected for various parts of the building. It also met the client's brief to deliver a tranquil colour balance and a sense of calm throughout".
The images chosen for print ranged from beautiful pictures of hope and expectation featuring infant-focussed photos for the entrance and main walls and calming landscape imagery for the consultation-room feature walls.
Where there's a ladder, there's a way!
Over and above the printing, the project took one week to install. Every inch of Digimura was fitted by Gary & Helen from Studio 2, who found themselves having to work around electricians, carpenters, builders, buckets and pails. All part of the job, and to be expected with any significant interior refurbishment!
Gary says: "It was all worth it, as when it was finally all in place (all 37-square metres of it!), the transformation was remarkable and the new owner, Darlington Gono, was extremely impressed and more than pleased with the results. We thoroughly enjoyed working with him and very much look forward to future collaborations with both him and Imaginatal".
Papergraphics – here with you every step of the way:
Studio 2 have worked with Papergraphics for over 15 years as Studio 2, and longer still if you take into account their previous employment.
Gary says: "Throughout this Covid-19 period, Papergraphics have been superb in their customer service, and I would like to thank them for this publicly".
"We had purchased all our large format printers from our man in the trade Doug Gilbertson. When Doug moved to Papergraphics, we naturally followed him. We are grateful for his expert advice in selecting our new printer, the Digimura-ready HPL560".

"Over the years, we have had a steady consignment of print materials from Papergraphics, and we have an excellent relationship with their whole team. We are looking forward to catching up with Andrew Spratt, our sales representative in the area, now that he is off furlough".
Calling all print specialists!
Digimura is a high-performance, market-leading printable wallcovering that is the go-to choice for high-profile digital interior décor projects. Every product in the range is print perfect, durable, washable, scratch-resistant and easy to install. It carries the "Euroclass EN13501" fire rating (even when printed) that is essential for public spaces.
If the Digimura range of wallcoverings has piqued your interest, captured your attention or fuelled your imagination – be more Gary, and give us a call!
Papergraphics is here to answer your questions, give technical advice, help you print, and train you to install Digimura. We will offer you every support in taking that next step towards expanding your services, diversifying your business and capitalising on this dynamic and profitable market.