The Papergraphics "Doing More With Interiors Event" and Digimura Wallcovering Installation Training are both proving to be extremely beneficial for many of our customers.
Since completing the training course, Centurion Signs has installed Papergraphics' Digimura 2.1 wallcoverings at Kilmarnock Football Club, and the newly-opened Ardnahoe Distillery on Islay. Moreover, they've said; they have many opportunities and interior décor projects in the pipeline.
Diversifying and developing new skills is key to Centurion Signs 48 years of success.
Centurion Signs have worked with the historic Kilmarnock F.C. "Killie" club for some time and, initially, installed a self-adhesive vinyl in the prestigious player's lounge. However; based on what they learned from the team at Papergraphics, Centurions' MD, Gordon Duff, explains that his company decided to replace the recently installed self-adhesive vinyl with Digimura 2.1:
"After attending the [Papergraphics] interiors event and the [wallcovering installation] training, we took the decision to go back to Kilmarnock Football Club to take down the existing self-adhesive vinyl and change it for Papergraphics' Digimura 2.1," said Gordon Duff MD.
He further explained: "We wanted to give the football club (and ourselves) the assurance that we had installed a solution that not only meets the correct regulations, but one that looked really fantastic, and would last."
Centurion has subsequently gone on to win several more interior décor projects, based on the specification of Papergraphics' Digimura wallcoverings.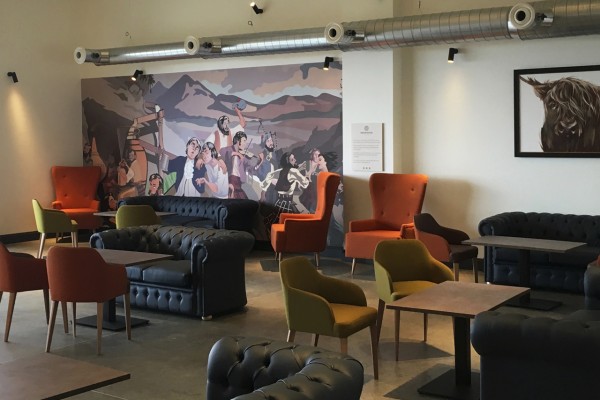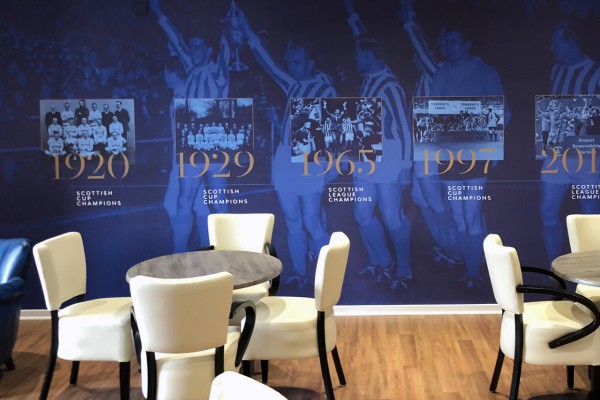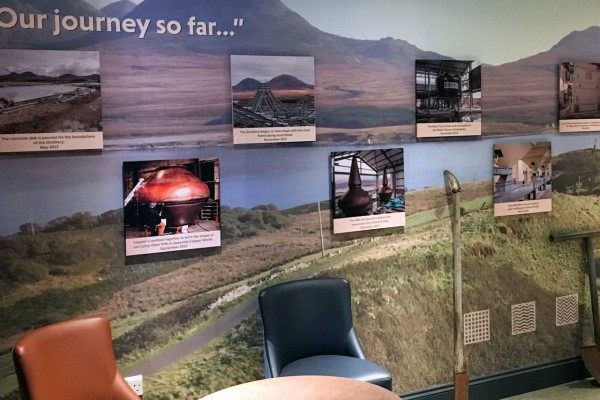 Papergraphics has provided support to Centurion Signs for many years, and we were keen to introduce the benefits, advantages and opportunities of using Digimura wallcoverings.
Gordon Duff says; "We've worked with Papergraphics for years and thought the opportunity to attend their interiors day was one we couldn't pass up. The day itself was great, and I took away a lot of new information that I could use for my business. One of the things that really stood out was the legislation and standards relating to the installation of wallcoverings. For me, it cemented how important it was to use the right type of product for the application."
"We subsequently booked our installer team onto Papergraphics' wallcovering application course in order to understand the regulations and installation technique in more detail."
Digimura 2.1 is a premium-quality digital wallcovering. Papergraphics created the Digimura 2.1 range for designers and display specialists for use in all types of commercial interior décor projects; cafés, bars, restaurants, to high-street retail stores, hotels, offices and museums.
Digimura 2.1 has a "Euroclass EN13501" fire rating that's essential for public spaces. It is ideal for busy public areas such as the football club's hospitality lounge or the distillery's visitor centre. It also possesses an anti-fungal/microbial biocide, which makes it suitable for use within healthcare environments.
Digimura 2.1 is compatible with Eco-Solvent, Solvent, UV-Curable and Latex printers and is available in five different finishes, each adding a unique aesthetic to the printed image or design.
Fire regulations and the legislation for printed wallcoverings, murals and graphics is essential knowledge for any professional working in digitally printable interior decoration and display.
"Papergraphics support its customers and provides advice and training focused on the needs and growth of their companies. We're delighted that Centurion found our customer-insight event and installation training informative. Also, we're thrilled that it has had a positive impact on their business," comments Papergraphics' Barry Dellow, Application Training Specialist.
Large-format print companies diversifying into décor also gain further advantage working with Papergraphics in both the superior-quality specification of Digimura digitally printable wallcoverings and, our training methods.
Barry concluded: "The results Centurion Signs have achieved are inspiring. Imaginative spaces brought to life with beautiful wallcovering installations, and a lucrative, growing décor market to explore."