We've been working directly with InkTec for many years now and have experienced first-hand the performance and versatility their Jetrix flatbed printers can offer. So it shouldn't be a surprise that we don't just sell Jetrix hardware – we actively use Jetrix printers at our HQ.
"UV Flatbed technology has torn up the rule book regarding what you can print on."
The LED UV technology in Jetrix flatbeds allows you to print on almost anything. From everyday applications such as vinyl, board, glass and acrylic to unusual surfaces such as fruit machine casings, aeroplane and ship parts, stainless steel, coffins, entire doors, laminate floorboards and short-pile carpets —"If you can think of it, a Jetrix flatbed printer can most likely print on it!"
The Jetrix UV flatbed technology opens a new creative realm for print specialists.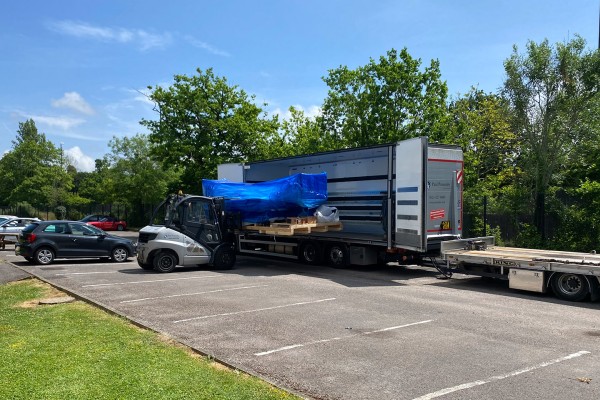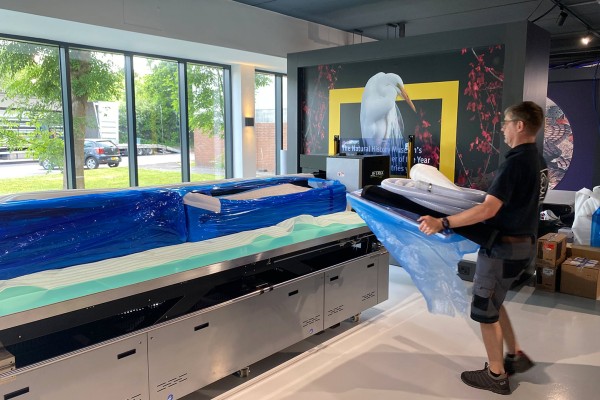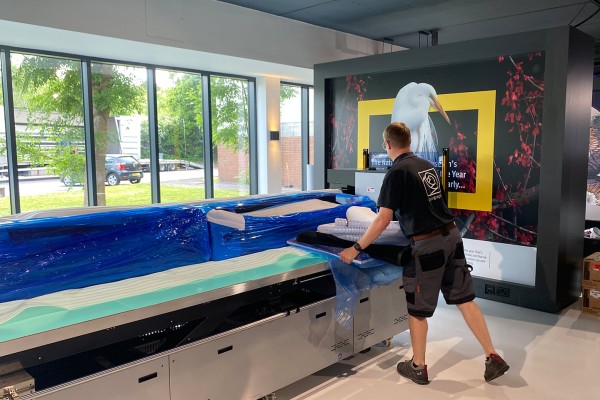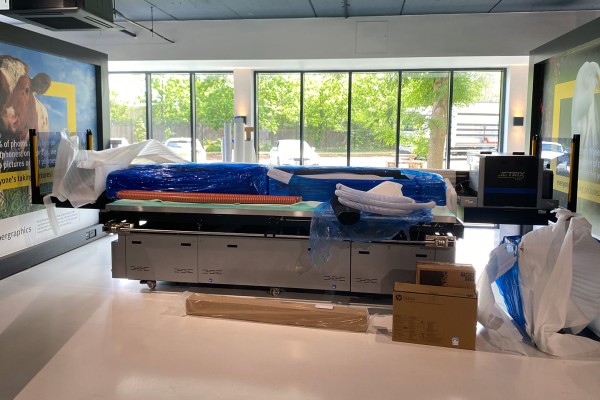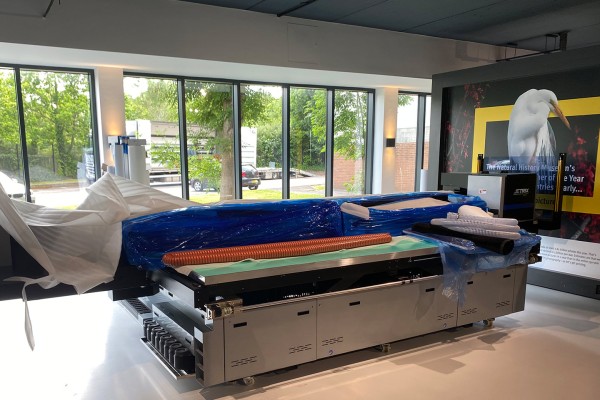 Papergraphics has worked with Jetrix UV flatbed printers for many years now.
Through trials and tests, they have proven to be well-built, intelligently designed, represent excellent value for money, offer fast and superb high-quality output and importantly, are frugal on ink consumption.
UV is also super quick-drying. It doesn't require the off-gassing other ink technologies typically require, so prints can be handled almost instantly, saving time and easing your busy workflow.
To further enhance the output of your production line, these UV machines are designed with impressively sizeable beds to allow you to print bigger quickly. For example, the flagship Jetrix LXi8 was designed with a 3.2 x 2.m bed to handle two boards simultaneously side-by-side. With print speeds of up to 206m2/h, investing in a flatbed like this guarantees you can quickly take on any job that comes your way.
"The consistent quality and reliability of Jetrix machines is why we use these flatbed printers ourselves at Papergraphics — and recommend them to our customers."
We would be happy to set up a demonstration for you, and we think you'll be impressed! If you'd like to know more or want to see a Jetrix in action – give us a call: 0345 1300 662
Pros
For the price point, you'll struggle to find better equipment.
The hardware and the ink are manufactured by Inktec to give consistent quality.
It's a big-bed workspace but brilliantly simple to operate.
100mm head height on all flatbeds to handle thicker substrates.
2.2m Roll to Roll option can be added to selected models to maximise production.
UV technology lets you handle prints almost immediately.
The LED bulbs can last over 20,000 hours, reducing maintenance costs.
Cons
True flatbed size can present a challenge when installing.
Flatbeds must be manually operated to ensure maximum productivity (unless a roll-to-roll upgrade is made).
Ideal Applications
Backlit
Banners
Floor Graphics
Magnetics
Pop-Ups
Posters
Roll-Ups
Temporary Textiles
Traffic Signage
Wall Coverings
Wall Graphics
Window Graphics
Roller Blinds
Models in the range:
Jetrix LXi8 LED UV
High-speed, full-size LED UV flatbed with powerful zonal vacuum system, user-friendly GUI, up to 16 colour channels, and precise Konica Minolta printheads. Speed: Up to 206sqm/hr Size: 3.2m x 2m wide flatbed
Jetrix LXi7 LED UV
Full-size LED UV flatbed with powerful zonal vacuum system, user-friendly GUI, precise Konica Minolta printheads and optional varnish/ primer. Speed: Up to 78sqm/hr Size: 2.5 x 3m wide flatbed
Jetrix LXi6 LED UV
Compact LED UV flatbed with powerful zonal vacuum system, user-friendly GUI, precise Konica Minolta printheads and optional varnish/ primer. Speed: Up to 76sqm/hr Size: 2.5 x 1.3m wide flatbed
Jetrix KX6U
Entry-level compact UV flatbed with high-definition output using reliable 6pl Konica printheads for lower-volume workflows. Speed: Up to 28sqm/hr Size: 2.5m x 1.3m wide flatbed
What the manufacturer says:
Overview
Upgrade your business with the speed and performance of the diverse range of JETRIX LED-UV Flatbed printers.
JETRIX LED-UV flatbed printers are easy to install and configure in your print facility and ideal for customising and creating stunning graphics on almost any substrate you can buy.
Unlike other manufacturers, InkTec's Korean production plant is self-developed, using our technology and unique experience. The stringent quality control and integrated technology of InkTec's Quality Management Team help to ensure all products are the best in class.
JETRIX flatbed printers can print on sheets of flexible or rigid materials, irregularly shaped or heavy objects, or substrates with uneven surfaces, which are held securely to the table with a vacuum system throughout the printing process.
Our flatbeds allow for exact and high-quality printing on virtually any material, providing you with the most intelligent and versatile large-format printing solution.
From the impressive LXi8 LED-UV flatbed with exceptionally high production speeds of 206sqm/hr to the intelligent and compact LXi6, our range of flatbed LED-UV printers is feature-rich. It comes with unrivalled reliability – essential for busy print businesses.
Just a few features and benefits of JETRIX LED-UV flatbed printers: Super-fast full-size flatbed printers. Powered by a dedicated JETRIX GUI, which optimises and automates the print process. Versatility to print on a wide range of materials from banners to foils to glass, wood, plexi, PVC and more!
Photos