With the introduction of Expanse LUNA & SOLO PVC Free banner materials, Papergraphics is pleased to deliver new planet-friendly banner product choices for its customers: two unique product options that make good environmental sense, have better tensile strength, outstanding print performance, and are more durable than similar, traditional banner materials!
It's a necessary product revolution: from burgers to building materials, sustainable innovation creates new products that produce less waste, have less impact on the environment, and do so without compromising the quality and functionality consumers demand. "That's what we've done with our new Expanse, LUNA & SOLO planet-friendly, 100% PVC Free banners!"
Michelle Dellow, Product Manager at Papergraphics, explains that "Expanse LUNA & SOLO are produced entirely from TPO (thermoplastic polyolefin), a material widely used in the building and automotive industry for its exceptional durability and strength in outdoor environments. In utilising TPO, we have made LUNA & SOLO stronger than standard banner materials and PVC Free and recyclable*".
Expanse LUNA is the heavyweight of Papergraphics' new PVC Free banners. At 400gsm, it's a woven TPO banner material that delivers the clarity of colour, print performance, and durability you expect when specifying the toughest quality banner materials for your customers.
SOLO is the lighter-weight Expanse banner range PVC Free option. Yet, at 230gsm, SOLO still delivers the print performance you need. And, its knitted TPO construction offers the benefits of a lighter weight banner material while being more robust and enduring than a traditional 340gsm banner!
More sustainable without compromise: delivering what customers already value about the products they currently buy (be that flavour, texture or price and performance) while reducing the environmental impact of a new product is what the planet-friendly sustainable product revolution is all about.
Expanse LUNA & SOLO PVC Free banners at a glance:
PVC Free, Phthalate Free, and REACH compliant.
A high white, high-quality printable surface, compatible with Latex, UVC and Eco-solvent inks.
Available as a lighter-weight knitted TPO or a heavyweight woven TPO banner material.
Both LUNA & SOLO PVC Free banners have excellent tear and tensile strength.
Recyclable; *dedicated recycling sites already take TPO (thermoplastic polyolefin) products.
Available in 1600mm x 50m and 3200mm x 50m widths and lengths.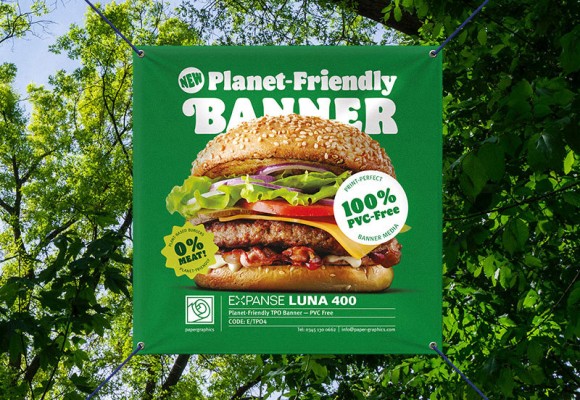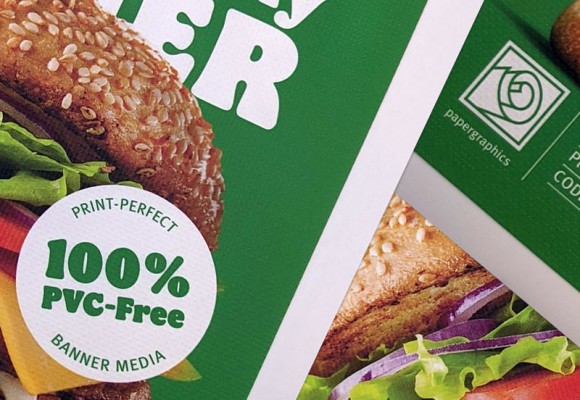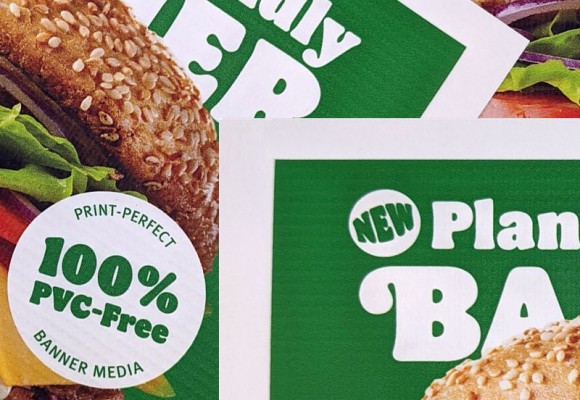 If you would like to know more about the Expanse Banner Range and our new Expanse LUNA & SOLO PVC Free TPO banner material options, please call us on 0345 1300 662