Combining versatility, lower operating costs and competitive pricing with powerful print and workflow performance, Jetrix roll-to-roll LED-UV printers are food for thought for print service providers wanting to make new forward-thinking hardware investments.
"We had a Jetrix LXiR320 for evaluation and training in our printer fleet at Papergraphics HQ for quite some time, and our technical team found it easy to work on and use, reliable, versatile and impressive!"
Unveiling the Power of UV Ink Technology.
For those who have traditionally relied on Solvent or Latex printing, it might be the right time to explore the numerous benefits of UV ink technology. Jetrix roll-to-roll printers have an advanced LED-UV system that can effortlessly print on various display graphics substrates, including vinyl, fabrics, window film, banner media, and even Digimura wallcoverings.
The Real Magic: Jetrix LED-UV Inks.

Jetrix LED-UV inks cure (almost) instantly, allowing you to handle prints immediately. Moreover, these prints are incredibly durable, thanks to their scratch-resistant properties, often enduring outdoor conditions for over two years without lamination. This saves valuable production time and broadens the application opportunities of your output.
Reliability, Energy Saving & Lower Operating Costs.
A standout feature of Jetrix LED-UV print technology is its unwavering reliability. Their build quality is superb, and the LED bulbs in Jetrix printers are made to last, typically surpassing the 20,000-hour mark.
But reliability is just the beginning. LED-UV ink can be more cost-effective in the long run than comparable equipment using other ink technology. Jetrix LED-UV printers require less energy to cure prints (notably in comparison to printers requiring a heated dryer), so they generally have lower energy requirements and operating costs.
Efficiency at its Finest: The Dual Roll System.
Efficiency is the 'name of the game'. The ingenious dual roll system in the Jetrix LXiR320 is a good example and excels in this department. Your media is effortlessly re-rolled after printing, saving you time and effort. This thoughtful design feature has earned high praise from our technical team at Papergraphics.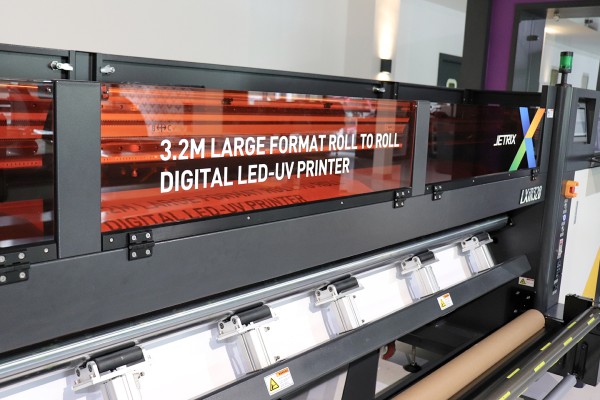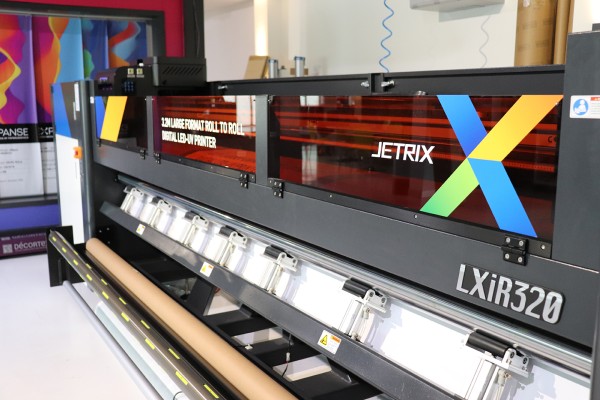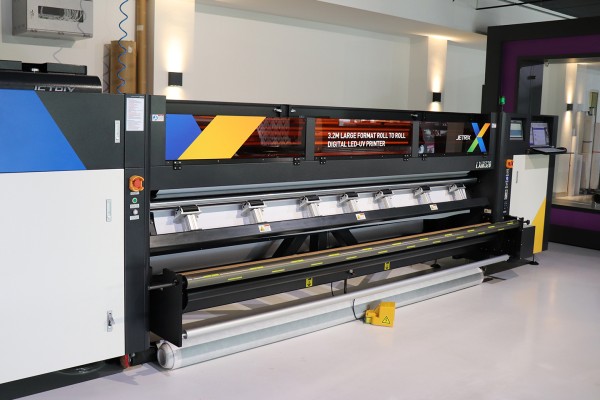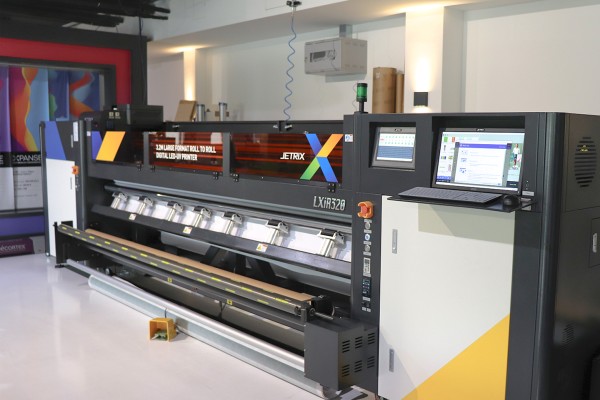 InkTec: The Name Behind the Magic.
Behind the Jetrix brand stands InkTec, the visionary minds responsible for the UV ink and the hardware. This synergy results in unparalleled performance, print quality, and genuinely inspiring results that set them apart from the crowd.
Challenging the Status Quo in The Large-Format Print Industry.
While several familiar OEM brands and ink technologies that have more than earned their position in the market focus on their niche, Jetrix is boldly challenging the status quo with its roll-to-roll LED-UV ink printers. Their visionary mindset offers large-format print firms a unique value proposition and a glimpse into an alternative, highly adaptable, highly efficient and cost-effective future.
"Super-wide, safe, fast-drying, scratch-resistant LED-UV ink in a high-speed, energy-efficient, cost-effective, robust, reliable package — with the option for white ink!"
It's a perfect combination for print firms looking for keenly-priced, hard-working equipment. Here's a recap on some of the Jetrix LED-UV roll-to-roll printer features and benefits to help you decide:
High-speed printing and faster drying times. With machines that offer print speeds up to 120 sqm/h using LED-UV inks that cure almost instantly, print jobs can be finished much faster than with solvent or latex inks.
High-resolution and better-quality printing. The LXiR320 can print at a resolution of up to 2160 dpi, and LED-UV inks produce sharper, more vibrant prints than solvent or latex inks, as UV inks cure more evenly, resulting in less smudging and blurring.
Scratch and weather-resistant prints. Across the range, Jetrix LED-UV ink technology delivers durable print results that are resistant to scratches and weather, making them perfect for indoor and outdoor applications without the need for lamination.
Greater versatility and a wide range of applications. LED-UV inks can print on more display graphics substrates than solvent or latex inks, making Jetrix LED-UV ink roll-to-roll printers suitable for various applications, including signage, banners, posters, and textiles and Digimura digital wallcoverings.
But this is undoubtedly something you'll want to see for yourself! So, organise a demo and come and visit us if you'd like to know more or see a Jetrix LED-UV printer in action!
Give the team at Papergraphics a call: 0345 1300 662
Overview: Jetrix LED-UV Roll-to-Roll Printers
Pros
Some of the most competitively-priced super-wide roll-to-roll machines in this class.
The hardware and the ink are manufactured by InkTec and deliver consistent quality.
LED-UV technology enables you to handle the prints almost immediately.
High-speed and high-quality printing.
Durable prints: Your print work comes off the machine, ready for indoor and outdoor use.
Versatility is a big pro: You can print on a greater range of substrates when you work with UV ink.
Energy efficiency and lower running costs.
Cons
The impressive size of these printers can present a challenge when installing.
Jetrix LED-UV ink printers may initially seem expensive due to a higher upfront cost than traditional LFP printers, but compared to other super-wide roll-to-roll machines in this class, they are not.
Jetrix LED-UV ink printers require slightly more complex maintenance than traditional LFP printers.
Aplicaciones ideales
Retroiluminación
Pancartas
Lienzos
Gráficos para suelos
Magnéticos
Pop-Ups
Pósteres
Enrollables
Textiles temporales
Recubrimientos de pared
Gráficos para paredes
Gráficos para ventanas
Estores enrollables
Signage
Modelos de la gama:
JETRIX XGR320
This high-performance 3.2-meter roll-to-roll LED-UV printer, featuring Ricoh GEN6 heads and speeds up to 114 sqm/h, excels in producing high-quality prints on diverse materials like PVC, flex, banners, backlit, textiles, and window film. Thanks to its robust build and double rollers, it offers exceptional efficiency and reliability, handling materials up to 200kg effortlessly. In the world of super-wide roll-to-roll printers, the XGR320 is a true game-changer.
JETRIX LXiR320
This Jetrix roll-to-roll printer is another high-performance LED-UV machine ideal for large-format print firms. The LXiR320 can print at speeds of up to 120 sqm/h and features a resolution of up to 2160 dpi, making it an excellent choice for printing high-quality graphics and signage.
JETRIX LXi190
This more inexpensive roll-to-roll LED-UV printer can still produce high-quality prints. The LXi190 can print at speeds of up to 45 sqm/h and features a resolution of 1,440 x 720 dpi. It is ideal for businesses looking for a cost-effective option for printing PVC, flex, fabric, and backlit banners.
What the manufacturer says:
Overview
JETRIX Roll-to-Roll printers lead the market with high-resolution printing.
The Jetrix UV roll-to-roll solution includes the impressive JETRIX LXiR320 3.2m roll-to-roll printer - ideally suited to indoor and outdoor signage and graphics, along with the more compact LXiR190 model.
JETRIX large-format roll-to-roll printers create all the difference for the high-speed production of PVC, flex, fabric and backlit banners for events, exhibitions, retail and more.
UV Printer Roll To Roll - printing opportunities are endless with JETRIX
Our large format roll-to-roll printers can print a wide range of applications—from banners, canvas, or printed pieces produced on flexible roll materials. The printing process takes a roll of material loaded on one side, which is then carried through the printer, where the printed media is then re-rolled onto another uptake roller. This unique dual-roll system saves you production time.
Roll-to-roll printing is a highly versatile large format printing solution because these printers can print on almost any media that comes on the roll – much like the UV technology found in our flatbed machines, but just in roll form. Due to their versatility, they can service almost any print project and are ideal for longer material runs. Particularly as the process can be streamlined and production can move faster with less interruption and less staff interaction.
From the JETRIX LXGR320, capable of printing significant 3.2m edge-to-edge printing up to 726 x 1200dpi maximum resolution to the JETRIX LXiR190, which can take two 914mm rolls at once. The bar is raised further by this smaller printer, also printing 1.88m edge to edge. This all forms diverse opportunities for high resolution, roll media output your business are now endless.
The ultimate large-format printing solution for your busy print businesses: For indoor and outdoor signage. Ideal for the production of PVC, flex, fabric and backlit banners. High-resolution at high printing speeds.